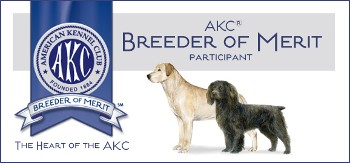 Frontier Retrievers
Established in 1986 for the purpose of raising sound Labrador Retrievers and Boykin Spaniels for hunting, field trials, and hunt tests.
The objective of our Labrador Retriever and Boykin Spaniel breeding program stresses physical and mental soundness as well as a high degree of trainability. All breeding stock is free of Hip Dysplasia and Eye Abnormalities. Our Labrador Retriever females are bred to the finest Field Champion (FC), Amateur Field Champion (AFC), or Master Hunter (MH)/Hunting Retriever Champion (HRCH) sires in the country. We transport them Nationwide for Appropriate Breedings or use Frozen surgical/transcervical Inseminations.
Puppies are carefully raised in the home environment, socialized, and handled daily for maximum potential. Puppies are introduced to crates, started retrieving bumpers and birds, and water introduction if weather permits. Puppies have dew claws removed, vaccinations appropriate for age, an ACVO eye exam, vet-checked, and microchipped. Our pups are sold with a written warranty for health, hips, and eyes.
Puppy Prices range from $1200 to $1500.  Our price reflects the quality of our breedings, the commitment we have to the breeds in terms of time and resources.  Frontier updates health clearances and provides continual support to Frontier puppy owners.
 Ifthe pedigree and calibre of the parents meets the high standard of our breeding criteria, Frontier may prudently breed a DNA tested carrier to a DNA-tested  "clear" dog.   No offspring from that breeding will be "affected".  The development of genetic testing has helped the owner's ability to DNA test their dogs and make responsible breeding decisions.  

For more information, please Send E-mail and tell us if your prefer male or female, color, if your pup will be training for hunting and/or used for field competition.  Or for your convenience, answer the questions on the Puppy Buyer Form and return.   Incomplete information may delay your request for puppy information.  Phone calls are always preferred and will receive a quicker response than text or email.